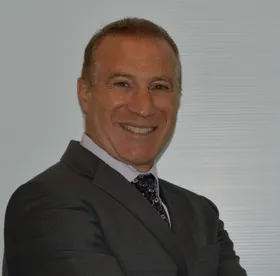 Dr. Philip A. Arnone, BS, DC, DABCI
In his 28 years of chiropractic practice, Dr. Arnone has treated over 12,000 patients. After graduating from Fordham University with a Bachelor of Science, he received his Doctor of Chiropractic Degree (DC) from the oldest and most respected chiropractic university in the country, Palmer University.
After another 4 years of study, Dr. Arnone received his Diplomate Degree from the American Board of Chiropractic Internists (DABCI) through Parker University. He is a Board-Certified Chiropractic Internist.
Dr. Arnone has owned and directed the Balanced Body Center in Matthews, NC since 1994 and holds one of the finest reputations in the Charlotte area. As one of the largest and most respected clinics in the greater Charlotte area, many medical professionals--orthopedists, dentists, and podiatrists alike--refer their most difficult cases to Dr. Arnone.
While there are many effective chiropractic techniques, Dr. Arnone has adopted what he believes to be the best and safest of these methods. The Balanced Body Center is one of only 300 clinics in the country where the doctors are trained in the NUCCA upper cervical technique. In addition to upper cervical care, Dr. Arnone performs gentle, full spine and extremity adjustments in order to improve symptoms quickly and correct structural problems.
Recognizing that each patient's condition is unique and often multi-faceted, Dr. Arnone's clinic also has physical therapists, exercise therapists, nurses, and massage therapists on staff to help fully meet the needs of each patient. As a Doctor of Chiropractic and Board-Certified Chiropractic Internist, Dr. Arnone has created a health center dedicated to helping patients discover natural solutions to many diverse health conditions. The Balanced Body Center is a full diagnostic and treatment facility including:

Recently, Dr. Arnone has also introduced a technology from Germany to the United States--the ExMI Pelvic Floor Therapy Chair. This therapy uses non-surgical, non-invasive technology to strengthen pelvic floor muscles. Several patients have turned to this method as a successful treatment for incontinence.
While most of his time is spent caring for patients, Dr. Arnone also gives lectures educating both organizations and physicians alike on the mechanisms and treatments available through natural medicine. Every year he brings together medical physicians, chiropractic physicians, naturopathic physicians, and other health care professionals in an annual symposium dedicated to the advancement of natural medicine.
Professional Titles & Positions
Chiropractic Physician and Director of The Balanced Body Center
Current North Carolina Delegate to the American Chiropractic Association
Past Chairman of the ACA Education Committee which coordinates, reviews, and schedules all educational programming nationally for the ACA
Past President for The Council on Diagnosis and Internal Disorders
Past Chairman of the Educational Review Committee for the American Chiropractic Association Chiropractic Internists Program
CEO and co-founder of Pelvic Wave Charlotte
Medical Advisor for React Innovations

*Read Dr. Arnone's Curriculum Vitae
Awards
Fellow of the International College of Chiropractors - March 21, 2017
Congratulations to Dr. Arnone on his prestigious award and induction as a Fellow of the International College of Chiropractors!
"The International College of Chiropractors, Inc. is an organization with membership consisting of chiropractors that have contributed much toward the advancement of our profession. An invitation to a fellowship is issued only after a vigorous investigation of a doctor who has been nominated, and only one such invitation is proffered...The Fellow designation is bestowed upon those whose contributions have made or who will make significant impact upon the science of chiropractic and to those who render valuable and meritorious service to the profession."
© The International College of Chiropractic, Inc.
ACA Flynn Lynch Award - May 17, 2013
"Dr. Philip Arnone, of The Balanced Body Center in Matthews, recently received the Flynn Lynch Award from the American Chiropractic Association, according to news release. The award is the highest honor the association gives to a delegate of less than five years. Arnone serves as a representative for North Carolina chiropractors to the association and also serves as the chairman of the association's education committee and is responsible for coordinating all the webinars and seminars the association gives nationally, according to the release. Arnone has been practicing for 23 years, 18 of those in Matthews."
Matthews-Mint Hill Weekly Newspaper - Published May 17, 2013
Volume 6, Number 20 * May 17-23 2013 -- Page 10
---
Dr. Derek S. Farmen, BS, DC, CFMP

Dr. Derek Farmen acquired his Bachelor's Degree in Applied Health Science with concentrations in Kinesiology and Physical Therapy from the University of Wisconsin – Parkside. Dr. Farmen went on to graduate with honors from the prestigious Palmer College of Chiropractic to acquire his Doctor of Chiropractic Degree (DC).
During his time at Palmer College, Dr. Farmen also completed his neurodiagnostic certification program through The Clinical Neurosciences Institute. Dr. Farmen continued his studies through the Functional Medicine University to become a Certified Functional Medicine Practitioner (CFMP) following graduation.
Dr. Farmen has also completed 3 years of course work through the Council on Diagnosis and Internal Disorders and is continuing his studies through the University at Buffalo Jacobs School of Medicine and Biomedical Sciences.
Through the University of Buffalo, Dr. Farmen has acquired Credentialing in:
· MRI Spine Interpretation
· Spinal Trauma Triage
· Evaluation and Management of Spinal Cases
· Primary Spine Care
· Spinal Biomechanical Engineering
To stay up to date with the latest research on the diagnosis and treatment of spinal related conditions, Dr. Farmen holds memberships in the Academy of Chiropractic as well as the American Academy of Medical Legal Professionals. This allows Dr. Farmen to offer the latest techniques based upon peer reviewed research when caring for his patients and allows him to collaborate with a team of medical specialists to deliver the best care possible to trauma and non-trauma patients.
Dr. Farmen uses a combination of NUCCA upper cervical technique, Thompson (gentle, non-rotational, full spine drop table adjustments), SOT blocking, Cox flexion/Distraction for injury and maintenance care. For spinal correction and arthritis prevention, Dr. Farmen utilizes Pettibon rehabilitation and Chiropractic Biophysics (CBP) to correct and/or stabilize abnormal spinal curvatures.
Dr. Farmen's education has sharpened his ability to diagnose and manage/treat a variety of conditions ranging anywhere from spinal trauma to aggressive autoimmune conditions through individualized natural strategies.
It is this whole-body approach that led Dr. Arnone to recruit Dr. Farmen to join The Balanced Body Center, where he utilizes the clinic's full diagnostic and treatment strategies, including:
Awards
Nominee for Palmer Clinical Excellence Award - 2017
In 2017, Dr. Farmen was a finalist for the Palmer Clinical Excellence Award, which is given to "a graduating doctor who provides outstanding service to patients, the College and the chiropractic profession. Clinic faculty nominate students. Award criteria are quality of patient care, leadership potential, knowledge, skills and service."
© Palmer College of Chiropractic
*Read Dr. Farmen's Professional History

© Palmer College of Chiropractic